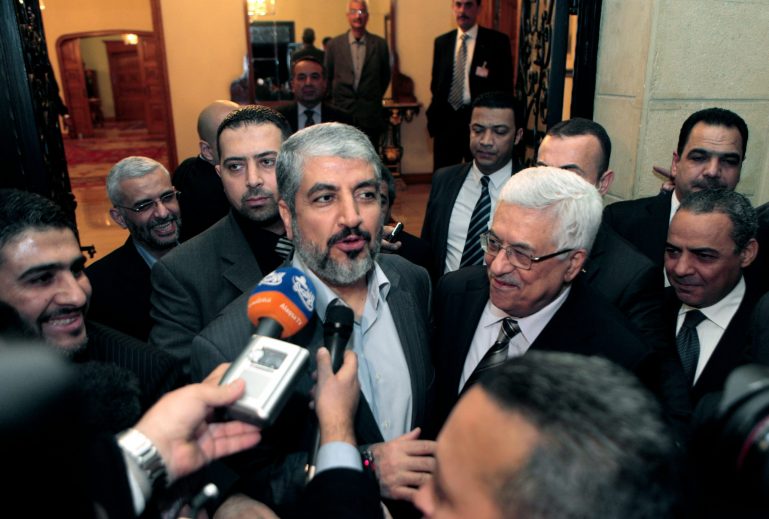 When Hamas leader Khaled Mashal and Palestinian President Mahmoud Abbas met in 2012, the AP reported that "there is a clear sense, in both . . . Fatah and its Islamist rival Hamas, of a national movement that is fragmented and in crisis." The two rivals remain bitter enemies—unable to make peace with themselves, let alone Israel, despite countless attempts.
Over 72 years, Israel has offered land for peace and a Palestinian state. The Palestinians have rejected all offers. How much longer should the world wait?
While some media and politicians assert that Israel's intention to apply sovereignty to the Jordan Valley in Judea-Samaria (the West Bank) inhibits formation of a Palestinian state, in fact it's the Palestinians' own, all-or-nothing strategy and divisive leadership preventing their statehood.
What are the facts?
"Palestinian society is splintered with dissension, preventing a state."
Only a tiny fraction of the world's national groups have nation states. Both Kurds and Tibetans aspire to statehood, yet haven't achieved it. Of 192 members of the United Nations, only 20 are nation states—the rest are multinational states. Thus, the failure of the Palestinians to achieve statehood is not unusual. Creation of a state requires powerful strategy, unity and leadership. Sadly, these qualities have eluded the Palestinians, preventing them from seizing multiple opportunities for statehood.
Palestinians embrace a "conquest" strategy. As stated in the 1968 Charter of the Palestine Liberation Organization (PLO), the Palestinian people are dedicated to the complete "liberation of Palestine," and "elimination of Zionism in Palestine." The Charter insists that "Armed struggle is the . . . overall strategy." While Palestinian leaders have pledged to eliminate this belligerent goal, the PLO has never done it.
Likewise, the Charter of Hamas, the Palestinian terror group that rules Gaza, states "resistance shall continue until liberation is accomplished, the return [of Palestinians] is fulfilled and a fully sovereign state is established with Jerusalem as its capital" on the land from the Mediterranean Sea to the Jordan River, encompassing all of Israel.
Clearly, a strategy focused solely on destroying Israel is futile, as is one that rejects negotiation. Palestinian leaders have for decades refused to negotiate on such unrealistic demands. Indeed, this all-or-nothing strategy is fully at odds with political leadership in the United States, Europe, Asia, and increasingly in the Middle East. It's certainly not the path to peaceful resolution.
Palestinians lack political unity. Palestinian leaders and their people do not share a coherent vision. While both rival political groups support defeat of Israel, Islamic fundamentalist Hamas favors outright war with Israel, as its thousands of missile attacks against Israeli civilians attest. The PLO prefers a more diplomatic approach—sometimes claiming to want peace—though it still rewards anti-Israel terrorism with financial incentives. What's more, these two factions remain bitter enemies, unable to share governance. While many Palestinians embrace peace and prosperity with Israel, this view is not promoted or shared by their leaders. In short, Palestinian society is splintered with dissension, incapable of forming a state.
Palestinians lack courageous leadership. It is said that any Palestinian leader who would make peace with Israel would be killed. This was the fate of assassinated Egyptian President Anwar Sadat in 1981, after signing a peace treaty with Israel. But if Palestinian leaders were actively to pursue policies of conciliation with Israel and promote a strategy of peace-to-prosperity, it's far more likely the Palestinian people would buy in. So far, however, no Palestinian leader has had the courage to negotiate seriously with Israel, despite three generous offers of land for peace, including a capital in Jerusalem. Likewise, Palestinians have rebuffed the recent $50 billion U.S. peace plan without discussion.
Israel faces increased threats to its national security. Since Israel's last offer of land for peace to the Palestinians in 2008, the world has changed frighteningly. Iran has risen as a belligerent power, Lebanon's Hizbollah terrorists now point tens of thousands of guided missiles at Israel, Syria has disintegrated, Iraq grows increasing unstable, and Turkey continues its quest for an Islamist empire. These developments severely threaten Israel, a tiny country the size of New Jersey. Military experts agree that to protect itself against regional enemies, Israel must control the Jordan Valley in Judea-Samaria, which borders Jordan, where very few Palestinians live. For urgent security reasons, Israel has long designated the Jordan Valley for future application of sovereignty.
How much longer must the world wait for the Palestinians? Like many peoples who yearn for their own nation state, the Palestinians have failed to muster a viable strategy, national unity or leadership bold enough to turn their dream into a reality. While many support the national aspirations of the Palestinian people, after 72 years of waiting, the world—and Israel—have the right to move history forward, even if the Palestinians still refuse to join in.